Year One Daily Timetable, Resources and Useful Websites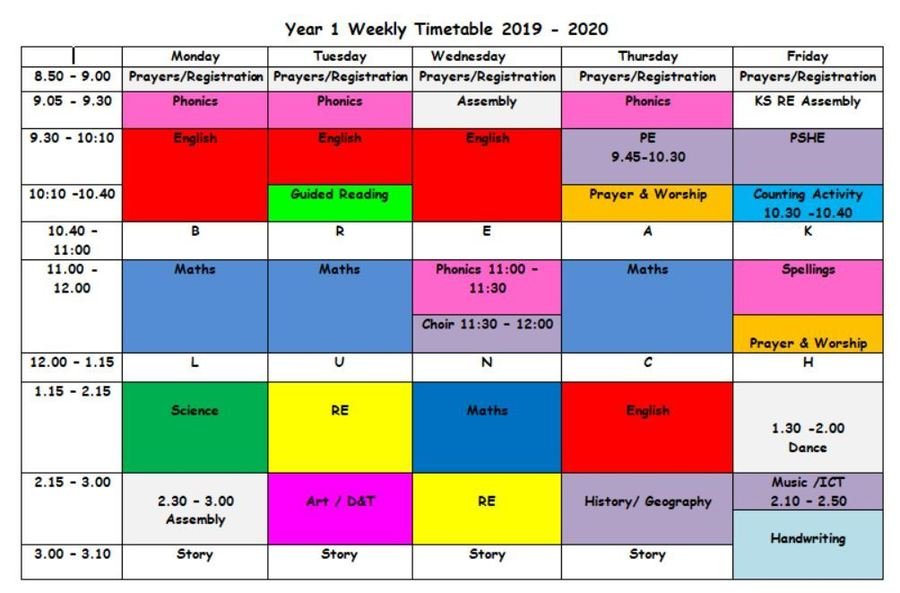 Tuesday 7th April 2020
Maths
There are some excellent online resources your child can access. I will be adding various online websites to this page regularly. I have already attached a fantastic online Maths resource, please see below, which you can easily access, to help your child in their learning in Maths. It is child friendly and I know the children will love!
At school, we have also been using the White Rose Maths Scheme. You can click on the link below and it will take you to the units we have been learning.
http://whiterosemaths.com/resources/schemes-of-learning/primary-sols/
Alongside the online learning, it really important that your child works on the following:
To count to and across to 100, backwards and forwards

To read and rite numbers to 100 in numerals ,e.g. 1, 2,3 and so on

To count in multiples of twos, fives and tens

To identify 1 more and 1 less of any given number

To read and write numbers from 1 -20 in words

To find and name half of one of two equal parts

To recognise and know the value of different coins and notes

To tell the time, to the hour [o'clock] and half past
Again, I will be adding various work to support the above.
And remember, make this time fun! Any games, such as dominoes, boards games [e.g. snake and ladders and cards] is a great way for children to learn in their maths, this is learning at it's most fun/best.
English
Phonics
There are some really fun online phonics games your child can access and they are free. Phonics Play is a great tool for your child to use, alongside their reading books. I have added login details for you to use.
https://www.phonicsplay.co.uk/
Username: march20 Password: home
Comprehension
As you already know, reading is key, so please can all parents spend 5-10 mins a day, listening to their child read. The children have already been sent books home to read. Continue listening to your child read and remember to ask your child about the text. Below, are some questions you can ask your child.
Why did you select this book?

Is this fiction or non fiction?

What makes you think this book is going to be interesting?
What do you think the book is going to be about?

How do you know?

What is the title?

Who is the author?

What is an author?

Does this book remind you of anything else you've already read or seen?
What kind of characters do you think will be in the book?

What do you think is going to happen?

Why did this happen?

Do you like this book? Explain why?
Why don't you get your child to answer this question in writing? Make sure your child answers in full sentences and they MUST check it makes sense!
Here are some extra fun online Phonics resources.
https://monsterphonics.com › games/
https:// www.letters-and-sounds.com/
Please click on the links below for additional work:
English Lessons
Our class text is Billy Goats Gruff. Please go to the timetable and click on the English section and you will find lots of activities for each day.
History & Geography
twinkl History & Geography code : :UKTWINKLHELPS
Before your child designs their Fruit salad, why not get them to explore fruit. Please see below for the worksheet. Scribble on a piece of paper or on the book we gave you from school. Use your senses of touch, sight and smell to really explore your chosen fruit.
Religious Education
To access the RE lessons, please go to the daily Timetable and click onto the RE section. The RE lessons will be updated, ready for every Tuesday and Wednesday.
Alongside the children's learning in RE, they have also been taking part in daily meditation and have been practicing mindfulness. This is something I feel very strongly about and is a daily practice the children have enjoyed. They even ask to do more, which is great!
So, after your child has worked hard and has completed their work, why not click on the link below, dim the lights and mediate for 5 mins.
Mindfulness Meditation Music Focus for Focus, concentration and relaxation
Music
To perform, listen and talk about music across different times is essential for your child and one of the great ways to achieve this, is listening to music, using appropriate online resources is vital. I will be adding some great links to this section very soon, on different composers and music that the children can access.
Some little things your child can do in the meantime are:
To sing

To explore different music [look at pitch, duration, tempo, timbre and texture]

To create music on their own or with others

To use technology appropriately to make music
Physical Education
It so important that alongside the academic learning, that our children try and stay as active as possible! Making time in the day for physical exercise is vital, and is something I myself try to do everyday. Here are some fun activities you can do at home:
Alongside the physical fitness, we have to look after our own and our children's mental well being. Year One have been wonderful in our daily class meditation. There are some wonderful mindfulness music videos on You tube you can access. It doesn't have to be long, just 5 mins, dim the lights, switch off any electronic devices and mediate.