The staff of St Patrick's R.C. Primary are committed to delivering the National Curriculum for PE but we recognise the unique nature of our School.
We know that the vast majority of the children at St Patrick's have not had many opportunities to be physically active, take risks or engage in sport before they come to school.
As a result we notice that children's gross motor skills are underdeveloped and this has a detrimental impact on their ability to e.g. Sit straight on the carpet or on a chair, to move with control
This also impacts on fine motor control and the ability e.g. to hold a pencil correctly or form letters and numbers accurately.
We know that inactivity can lead to health problems in later life
We also know that many of our children speak English as a second language and so the language associated with PE and sport is emphasised in lessons.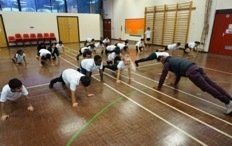 At St Patrick's we aim to provide a high-quality physical education curriculum which inspires all pupils to succeed and excel in competitive sport and other physically-demanding activities. We aim to provide opportunities for pupils to become physically confident in a way which supports their health and fitness. We aim to provide opportunities for children to compete in sport and other activities that will build character and help to embed values such as fairness and respect.
As part of our PE curriculum we provide intervention groups for those children whose PE skills are below their age related expectation.
We also engage a PE specialist whose role it is to work alongside teachers to deliver our PE curriculum.
The national curriculum for physical education aims to ensure that all pupils:
develop competence to excel in a broad range of physical activities
are physically active for sustained periods of time
engage in competitive sports and activities
lead healthy, active lives.

Extra Curricular sport
We try to provide a range of extra curricular sporting opportunities.
Attendance at Mosque for a significant number of our children limits their participation at after school activities so we are looking for ways to encourage physical activity in the playground at break and lunchtimes by providing a varitey of play equipment and we are also hoping to increase the range of lunchtime activities we can offer.
If a child show a particular talent in a sport we sign post them to an outside club where they can receive specialist coaching.
We engage specialist coaches e.g in Judo and table tennis to give children a range of sporting opportunities.
We have close links with Oldham 6th form college PE department.
Please find below the link to the National Curriculum:
https://assets.publishing.service.gov.uk/government/uploads/system/uploads/attachment_data/file/239040/PRIMARY_national_curriculum_-_Physical_education.pdf